HAMMER TECH POWER FACTOR IMPROVEMENT (PFI) PLANTS are of-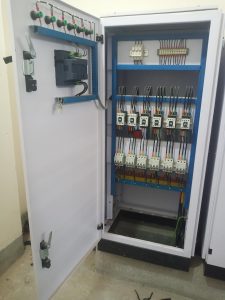 * Modular Design
* Compact Arrangement
* Low Losses Capacitors
* High Reliability
* Smart Operating Power factor correction is the switching of the capacitors in parallel with inductive loads in the network. Motors, Transformers and other inductive loads require reactive power.
Transmitting/distributing the reactive power from the power station to the loads in un-economical. It improves undue burden on generators and transmission/distribution system, causes additional losses, increases, voltage drop and the overall power requirement of the plant. Power Energy & Engineering Power Factor Improvement (PFI) plant is well
suited for this purpose.
DESIGN
Power Factor Improvement Plants are manufactured in modular design and consist of :
* Relay Module* Capacitor Modules
The regulation module consist of: Solid state reactive power relay with digital indication of power factor. Circuit breaker for controllable protection.
The capacitor module consist of :
* High reliability
* Long life
* Harmonic load tolerance
* High temperature class
* Air break contactors to switch capacitors
* Metalized plastic foil
* High over load capacity
* Environment friendly insulating gas filled
* Touch proof terminals
CAPACITOR, HARMONIC FILTER Relays are fitted with a specially developed Harmonic Filter device which will oversees the voltage dynamic. The measured voltage is reviewed with respect to it deviation from a pure sine wave. Capacitor current is heavily influenced by the dynamic of the supply voltage, the total effect is evaluated by measuring the current. If this current exceeds its nominal value by approximate120% over a time interval of 1 minute (current measurement), then the symbol µA will appear in the display.
Active, Reactive and Apparent Power:
The apparent power S required by electrical machines and electrical equipment is the product of voltage U and current I.
The active power is calculated as follows:
In AC systems the power factor is cos ø=1, if the current and voltage are in phase, I.e. both reach their highest positive and negative values simultaneously and pass trough zero together. This is the case with resistive loads (heater elements, filament lamps). The delivered energy is almost totally converted, e.g. into heat. Here we talk about pure 'active' power 'P' reactive current flows internally between the inductive loads, e.g. motors and the capacitors.
Necessary Accessories:
LBS, VCB, ACB, CT & PT (11kV, 33 kV), MCCB, MCB, Magnetic Contactor, Capacitor, Harmonic Filter, BBT & so on.
INDOOR OR OUT DOOR CUBICLE
– Air insulated, metal clad construction using high quality steel.
– Durable epoxy powder coated finish
– Computerized and compact design
– Easy accessibility for maintenance
– Meters, Relays and Controllers located at convenient height
– Extensible on both sides
– Side cable box for single panels
– Compatible with state of the art numerical