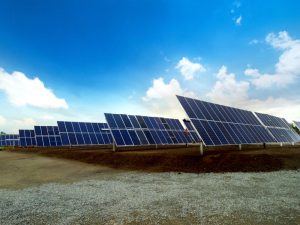 We started our journey with a view to provide clean & abundant Solar Energy to every part of our country. Thereby, enabling every household in our country to reap the benefit of the Solar Energy.
HAMMER TECH are promoted by the group of engineers, who have a cumulative industry experience of more than 10 years. Our common goal is to become a trusted partner for the Govt, Institutional, Commercial & Industrial clients & thereby, help them to achieve their energy target.
Hammer Tech Solar has developed, financed, engineered, constructed and currently operates many of the world's largest grid-connected PV power plants. Our experience across the solar value chain reduces risk while delivering more reliable, dependable and cost-effective solutions for our customers.
What We Do
As an experienced Energy solutions provider, we provide turnkey solutions and services for solar PV system ownership, including financing, consultation, engineering, procurement, construction, commissioning (EPCC), maintenance and monitoring.
Types of Roof top Solar System:-
On-grid solar system
Off-grid solar system
Hybrid Solar System
1. On-grid solar system in Bangladesh –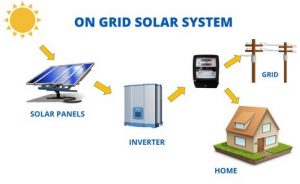 On-grid solar system in Bangladesh or the grid-tied solar system is connected to the electrical grid, therefore, it can draw energy from both solar panels and the electrical grid. This system is the most common type. It uses a common solar inverter. The excess energy that you generate is exported to the grid for use elsewhere. Likewise, It can draw energy from the grid occasionally when needed. The only drawback is that it cannot function during a blackout for safety issues. If the solar panels still generate electricity during breakout, it will be hazardous for people repairing the electricity
Benefits of the on-grid system 
The installation is much more cost-effective and requires very less maintenance
The extra electricity generated can be sold back to the grid. It can be a surplus income for households
Since it can pull energy from the grid, it works as a backup. You are least likely to end up in darkness.
2. Off-grid solar system –

These systems work independently hence requires a battery for preserving energy. The panels absorb energy during daylight and use the generated power at night. The batteries and inverters are much more expensive. They require special equipment to generate power throughout the year. This system is relatively costly. They provide energy in critical hours and mostly used in remote places where the electricity grid is not available.
Benefits of the off-grid system:
Blackouts do not affect these systems because they work independently
Easy Alternative for Rural Areas.
Helps you in saving electricity costs
3. Hybrid Solar System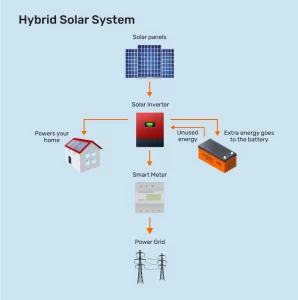 This system is more like on-grid solar power with special hybrid inverters. You can use power from the grid when needed. The only additional feature is that during emergency power cuts the backup battery provides you power
Advantages of Hybrid solar system:
Allows use of stored solar energy during peak evening times
It is less expensive and there is no requirement for a backup generator
Reduces power consumption from the grid
Feasibility of rooftops for generating power:
We build a rooftop PV system with solar panels generating electricity from sunlight.
Because of the abundant source, it has become an alternative electric power source for the green conscious.
There is also an alternative approach to generating energy and vegetation on the roof called bio solar roof.
The future needs more of green roof vegetation technology with renewable energy
Advantages of Rooftop Solar System in Bangladesh:
Combating climate change –  Fossil fuels are highly responsible for global warming. Solar energy produces no pollution or harmful effect on the environment. It reduces a substantial amount of greenhouse emission
Durable & reliable – Solar System is a long term investment. It lasts up to 25 years
Minimizes the electricity cost – No matter which of solar panels you install, it definitely brings a dramatic reduction in electricity cost.
Cost-effective – Solar system requires less maintenance. Once you install it,  you will notice how much money you spent on electricity all these years.
Abundance – The sun will shine every day. Take full advantage of the free energy it endows us with
Creates employment opportunities –  When you install the solar system you automatically create a job with the local community
A secure investment –  It is definitely a secure investment that can help you make some surplus income. On-grid system transfer power to elsewhere  leaving you with some extra cash
Designing and installation of solar panels:
The installer might consider some facts before designing a custom solution  solar system such as
Power consumption demand
Number of panels needed
Shop for the perfect solar system accordingly
Customers should consider the following things before installing
Weigh all the pros and cons according to your situation beforehand
Check if your roof gets access to the sunlight
Track your electricity bills and discuss with the installers which fit you the best
Installing rooftop solar can be as complex as it could be. I as follows the steps
Determining the direction and angle
Assembling the panels
Electrical wiring
Connecting the panels with the solar inverter
Connecting the inverter and the battery in an off-grid system
Connecting the solar inverter with the grid
Starting the solar inverter with solar grid
WHY CHOOSE US?
Delivering Exceptional Products And Services.
Rigorous Quality Check
Customize Design
Experienced Team
Installation Best Practices
Delivering Exceptional Products And Services